So...
Bachelor Pad
. I said I wouldn't blog on it and I'm not. Although here I am. But I didn't write while watching. Didn't take notes. I just thought I'd jot down a few thoughts after the fact as a way to spur on comments from everyone else. This can be your place to share your views and we can all be in on this together. I'll go first; you add your take on it in the comments section.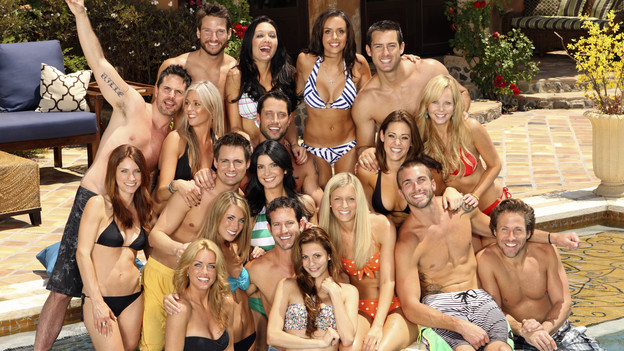 I think I like this show more than the

Bachelor/ette

! It is that good/bad. It's awesomeness at its most awesome.

Bachelor Pad

is the perfect name because it sure seems like all the women are extra hormonal.

The terminally cute

Melissa Rycroft

is the new

Vanna White

. Why is she even on the show? Give her a role, put her in a bikini (I don't care if she's pregnant), or get her off. But don't just have her standing around looking cute while

Chris Harrison

does all the heavy lifting.
I don't know if

Elizabeth Kitt

looks worse with her blonde 'do or if she's just uglier on the inside and it's just making its way out. Man, that woman can play games, can't she? Great game strategy getting the unrequited love of your life to pretend to love you back, but I'm not so sure it's a sound life strategy.
You all know I kinda had a thing for the psycho

Michelle Kujawa

. I really, really wanted her to stick around. Not just because I love her look, but because she's certifiable. She'd have been great in the weeks ahead as things get even more ramped up.
How rigged was that competition? I mean, all the girls want

Craig McKinnon

(aka the Sarnia Sleaze) voted off and surprise, surprise he wins the big Twister competition. Speaking of that game, we finally have proof these people are not in Mensa. I couldn't believe so many don't know right from left.
Something else I didn't know: that

Jessie Sulidis

had such a hot little body. She's more than just a rat, it turns out. Or she's a rat with a killer bod. I shouldn't be surprised since she always reminded me of Mary Ann from

Gilligan's Island

and I always liked Mary Ann way more than Ginger.
I still can't stand the Weather Man,

Jonathan Novack

. And how much time off can he get from being a weather man? Doesn't he have a job? Hell, don't any of them have jobs? Is

Ali

the only one who cares about her employer?

Tenley Molzhan

... so much for America's sweetheart. What I can't figure out is why all these beautiful young people with a small measure of fame are still single. With all they have going for them, if they can't find someone to love, it's time for them to look in that deep, dark, truthful mirror.
Yes, I know

Gia Allemand

and her fake cat lips apparently have a boyfriend. But we'll see how long that lasts.

Peyton

,

Ashley

,

Krisily

, and especially

Gwen

: I have no idea who you are. But I love the fact that Gwen, who's obviously had some work done and was on the second season way back whenever that was, gives her age as ??. She's a lady, you see. And a lady never reveals her age... once she reaches 40.

That's it from me. Your turn. Don't be shy.